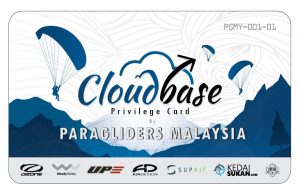 This page is our Digital Lounge for all PGMY's insurance subscribers and student pilots as their reference page to check our latest promotions on equipment discounts, packages et cetera that are exclusively available only for PGMY's Cloudbase card holders.
It also serves as a verification page for when there's an enquiry to check the validity of P&O insurance plan by relevant parties.
Please select from the options available below: –
List of gliders on promotional price – EN-A and EN-B only.
UP Ascent4 : RM8,500 RM7,500

Ozone Element3 : RM8,200 RM7,200

You have to be logged in to view the database content.
This will be a public feedback form and the sender's identity will be kept anonymously.
The purpose is to identify any pilots that were issued with PGMY's Insurance or Ratings Card that violated serious paragliding rules or flying dangerously.
By doing so, we could use the feedback to consult the reported pilot and make further improvements in the issuance of insurance coverage or management of pilot's conducts while carrying PGMY's ID card.