Revision 25 May 2019
© Copyright 2016-2019 Yusmar Yahaya.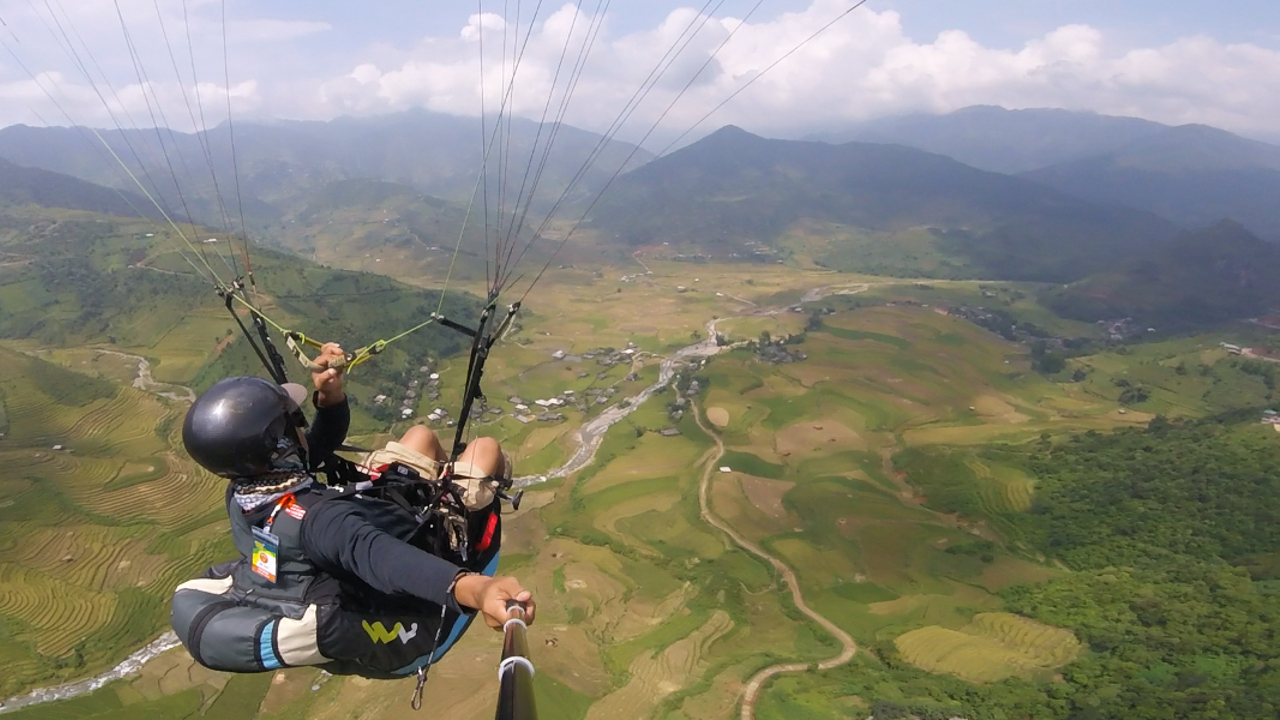 Student Pilot Course coverage:
2 days of ground handling with reviews on thermodynamics and meteorology
2 days of launch & landing practice – forward launch technique
1 additional day of progressive training flights (subject to availability)
Fully certified training equipments are provided (paraglider, harness, helmet and radio)
Written and practical exam through student workbook
Student Pilot identification card and 1-year club membership (entitles for paragliding gear discount)
Training reading materials such as student workbook, flight log
Beginner paragliding course lasts for 4 days over 2 weekends. If you are interested in learning to fly quickly, we recommend our intensive paragliding course over a full week (4-5 consecutive days) with theoretical lessons and practices every single day (weather permitting). This allows you to keep your knowledge and skills fresh each day and accelerates the learning process. Please consult us via emails for the schedule and further suggestions.
What You'll Learn:
Theory : Introduction to paragliding Equipment & Gears, Thermodynamics & Meteorology, Topology, Flight Rules and Incident Handling.
Practical : Equipment preparation, inspection and maintenance
Practical : Forward launch technique
Practical : In-flight manoeuvres for landing approach, flying with instructor in tandem flight
Practical : Open field landing technique
Practical : Reserve deployment (in a suspended simulation)
What do I get after the training?
First of all, you will have the skills to launch and land safely. However, as a beginner you need to master a set of skills and knowledge to continue flying safely and for this very reason you are required to be supervised by an instructor or equivalent for all of your subsequent flights even after the completion of your course. Only after 40 flights or more, you will usually grasp enough experience to perform the launch and landing without constant supervision.
In addition to that, you will be given the Student Identification card for validation should you visit other sites that requires verification of your proficiency. The card will also include your insurance coverage information from Pacific & Oriental Insurance Co. Berhad. The Student ID is valid to be used anywhere in Malaysia for supervised recreational flights.
The Training Location: (how does it look like)
Your Requirements:
Minimum age of 18 (or 16 with parental consent)
Comfortable outdoor attire including proper shoes, sunglasses and sunscreen
The will and patience to learn to fly as the weather will be hot during ground handling training
Listen carefully to your instructor (slightly different techniques may be applied according to situations and students ability to absorb instructions)
Reasonably good health (advised to perform medical checkup or obtain doctor's advice)
How much does it cost:
Paragliding training module : RM2,800 (inclusive of student workbook & logbook and the use of training gears)
The insurance coverage details and their options will be elaborated during registration, together with the registration form. The insurance premium varies based on your choice of packages. For more information on paragliding insurance, please visit www.paragliders.my/insurance page for details.
Commonly Asked Questions:

Now are you ready to learn how to fly a paraglider?
Contact Us for further details or to book your training calendar.