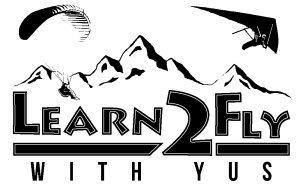 If you wish to learn how to fly a paraglider, we organise various paragliding courses depending on your requirement.
Below are the progression for Student Pilot Training course available from us and it will be conducted for 4 consecutive days or over 2 weekends.
Please read through the course information below and if you can't find the answer to your questions, do not hesitate to Contact Us to get further feedback.
---
Updated on : 17th May 2020
IMPORTANT NOTICE : COVID-19 Prevention SOP (Please read this first)
COVID-19 Precautionary Measures
Due to the pandemic, we have to implement several additional safety measures for the training session and although they can be quite a hassle but it's for the benefit of everyone involved. The details are as described below.
What we need you to do
Please make sure that you first checked yourself with a doctor if you have existing medical conditions that may be risky to participate in this activity.
If you are living at or coming from areas that has been flagged as "Yellow/Red Zone" by the Ministry of Health, you are required to perform Covid-19 screening at any of the Govt or private hospitals/clinics before attending the training course (Govt hospitals/clinics Covid-19 screenings are free of charge).
Please make sure that you bring a face mask to be worn at all times during training (except during intensive ground handling and launching). In addition, we will also prepare backup face masks in case you do not have them during the training days.
Due to the pandemic, we have to keep the training group as small as possible – where the Instructor-to-Student ratio is reduced to 1:1 (only 1 student per-instructor at any point of time, max. 2 students if both are couples, spouses or friends living in the same house).
You are required to register your presence at the training site on each training day using the QR code provided by www.selangkah.my website for contact tracing by Ministry of Health. This requirement applies to our instructors as well.
We reserve the right to postpone your training days to another date if we think that you are unwell or not compliant to safety assessment.
What we will do
Our instructors will undergo medical screening as well before conducting any training and we will be wearing face masks at all possible time.
Due to the risk of conducting theory sessions in a closed environment classroom, from now onwards we will be conducting the theory lessons in an open space at the training area where the air ventilation is much better to reduce any potential risks.
We will provide hand sanitary bottles during training session to be used by students at will.
We will as much as possible avoid close physical contact during training and we hope that by limiting the Instructor-to-Student ratio to only 1 or 2 students, it will help the purpose.
Training Module Summary
Student Pilot Course coverage:
2 days of ground handling with reviews on thermodynamics and meteorology
2 days of launch & landing practice – forward launch technique
1 additional day of progressive training flights (depends on availability based on training location)
Fully certified training equipments are provided (paraglider, harness, helmet and radio)
Written and practical exam through Student Workbook
Student Pilot Identification card and 1 year membership to Paragliders Malaysia
Training reading materials such as Student Workbook, Student Log Book
As a beginner you need to master a set of skills and knowledge to fly safely, for this very reason you are required to be supervised by an instructor or equivalent for all of your subsequent flights after the completion of your course. Only after 40 flights or more, you will usually grasp enough experience to perform the launch and landing without constant supervision.
Beginner paragliding course lasts for 4 days over 2-3 weekends. If you are interested in learning to fly quickly, we recommend our intensive paragliding course over a full week (4-5 consecutive days) with theoretical lessons and practices every single day (weather permitting). This allows you to keep your knowledge and skills fresh each day and accelerates the learning process. Please consult us via emails for the schedule and further suggestions.
What You'll Learn & Requirement
What You'll Learn:
Theory : Introduction to Paragliding, Equipment & Gears, Thermodynamics & Meteorology, Topology, Flight Rules and Incident Handling.
Practical : Equipment preparation, inspection and maintenance
Practical : Forward launch technique
Practical : In-flight manoeuvres for landing approach, flying with instructor in tandem flight
Practical : Open field landing technique
Practical : Reserve deployment (in a suspended simulation)
Your Requirements:
Minimum age of 18 (or 16 with parental consent)
Comfortable outdoor attire including proper shoes, sunglasses and sunscreen
The will and patience to learn to fly as the weather will be hot during ground handling training
Listen carefully to your instructor (slightly different techniques may be applied according to situations and students ability to absorb instructions)
Reasonably good health (advised to perform medical checkup or obtain doctor's advice)
How Much It Costs
How much does it cost:
(Post-Lockdown COVID19 Promo)
Paragliding training module : RM3,000 RM2,800
(Please check the registration form for more discounts on group booking)
Inclusive of student workbook, flight log and the use of training gears
Note : If you are registering for the training with another friend, then you will be entitled for a group discount and the more in your group registered together then more discounts are available. The registration form below calculates the discount automatically as you fill-in the particulars.
Students will be registered to Paragliding Student Insurance Plan for 6 months. The insurance coverage details and their options will be elaborated during registration, together with the registration form. At the moment, insurance coverage is only applicable for Malaysian citizens, expatriates with Permanent Resident status and expatriates with Malaysian work permit.
What Do I Get Upon Completion?
Skills:
First of all, you'll have the ability to launch and land safely with minimal supervision or guidance, then you will need to continue practising the flight launches until you can launch and land on your own without any supervision. Ideally, to achieve that is by procuring yourself a set of gears or make an arrangement for rental of gears.
Identification Card:
At this stage, you will be rated as Novice Pilot and be given a Pilot Identification  & Ratings Card, but not yet the National Pilot License from the National Aviation Controller (NAC).
At this stage (upon completion of training and for your subsequent flights as Novice Pilot), you don't need a "license" to fly recreationally but rather an identification for validation that you have gone through proper training before a site operator will allow you to fly at their location, this is due to safety reason especially in the presence of other pilots flying in the same airspace.
Our Pilot Identification & Ratings Card allows you to fly at all local sites that are designated as "Novice and/or Intermediate" but with supervision of another pilot that are more experienced such as an instructor. The Pilot ID card will describe your particulars including insurance coverage information and it is valid to be used at any flying sites in Malaysia.
Subsequent Flights After Your Training:
But please bear in mind that at this stage (upon completion of your training), you are still a novice and only capable of performing basic paragliding flights, you are still required to perform a lot more practice flights to become very familiar with the glider handling and improve your skills accordingly. Through regular practice, you will become a more confident, decisive and safer pilot.
To facilitate the above, we will be providing you with the Pilot Log Book to record all of your flights and also for your own future reference, in case you wanted to refresh your memory on certain matters. The Log Book also act as evidence to be submitted upon request by site operator or an instructor when you are attending further trainings in stepping up your skillset to become an Intermediate or Advanced Pilot.
Moving Forward:
Upon completion of logging an average of 40 flights, you will usually be considered as ready to sit for the national examination to apply for National Pilot License from the country's NAC (Malaysia Sports Aviation Federation). We encourage you to practice more often and consult our instructors regularly in improving your skillset to become safer and confident pilot, before starting to apply for the National Pilot License.
National Pilot License:
The National Pilot License is another proficiency ratings card issued by the NAC, in order for you to continue the training progression until the Advanced Pilot level, and if you plan to become a Professional Pilot or a Competition Pilot in future.
National Pilot License application form is available at https://www.msaf.gov.my/paragliding/pilot-register (but you are required to complete a minimum of 40 logged flights before applying).
Sample Preview of Training Guidebook
Training Manual:
During your training, our instructors will use the Training Manual Guidebook to assist your training and it will be used as record of your training. You are required to complete all the tasks in the book together with your instructor and it will help you improve your knowledge in paragliding. Below is a sample pages as preview of the manual that will be used during your training.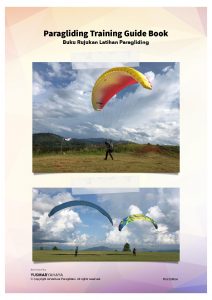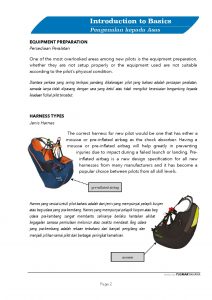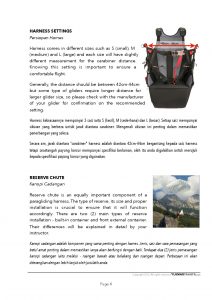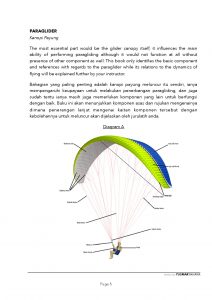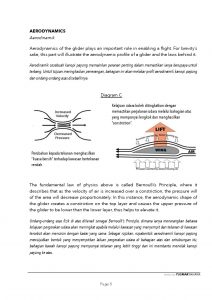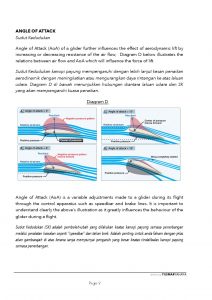 Sample Preview of Pilot Log Book
Pilot Record Book:
The record book is important for you to log all your training flights as proof and get them signed off by your instructor. It also contains references on the steps required to pursue further trainings or certifications, examination tasks that you have performed with its validation as well as several very important reminders on some of the most important aspects of paragliding (and the most frequently forgotten by novice pilots). Below is a gallery of how the Student Record Book looks like for reference: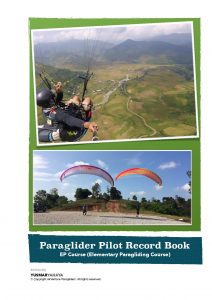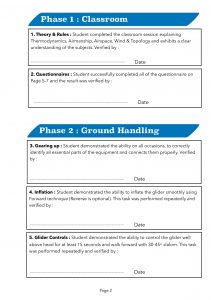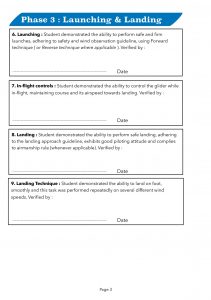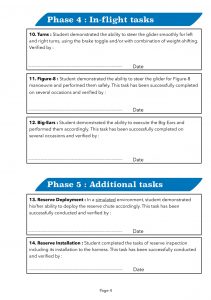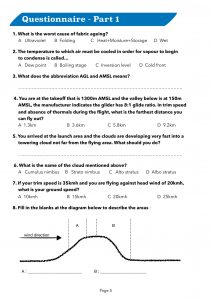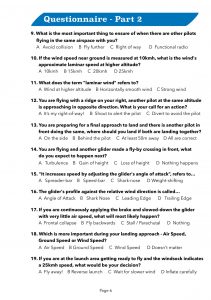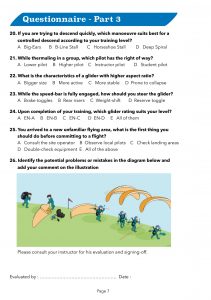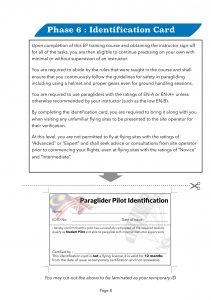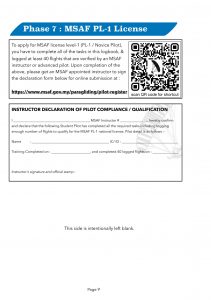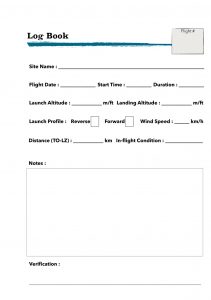 Where Is The Training Location?
There are several locations that are suitable for paragliding training. The nearest to Kuala Lumpur would be Kuala Kubu Bharu. As an example, below are 360 panoramic view of the location for your reference.
What About Insurance?
All training courses comes with an annual insurance coverage specifically designed for paragliding student pilot. However, if you are visiting from other countries then we have to make a special arrangement for insurance during the training period.
Paragliding insurance coverage is from Pacific & Orient Insurance Co. Berhad and it is powered by Tune Protect.
How Do I Make Payments?
There are several ways to make payments other than cash on-site, we accept FPX online payments including credit card from Visa and MasterCard through senangPay as our registered Payment Gateway. You are only required to make payment when we send you an invoice after your schedule/appointment is confirmed.
Do I Really Have To Complete Everything Within The 4 days?
Don't worry, in the event that you are unable to complete the course within 4 days as stipulated in this training program, we will still continue to teach and coach until you are ready and able to fly.
Our primary focus is your safety in this sport, and we will only allow you to fly on your own when we are convinced that you are able to perform such tasks.
Different student will have different abilities, some are able to complete everything in just 3 days and some others will take slightly longer like 6-7 days. Whatever it is, once you commit into this training course, we will make sure that you will train well and able to fly safely.
What we require from you, is your commitment to attend the training course according to the schedule and inform us ahead of time if you need to make any adjustments.
Get Started : Registration Form
How to get started? Please fill-in the form below to make an appointment for your schedule of training and we will revert with availability or further recommendations.