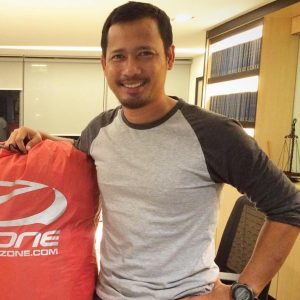 The Geek Behind The Scene
Yusmar Yahaya started flying with paramotor back in 2011 when he enrolled for a flying lesson and regularly fly with the Nirvana paramotor and Ozone Rush wing. Back then, Pulau Indah near West Port in Klang was his weekend home to fly above the mangrove forest.
Then he discovered free-flight and immediately hooked on the joy of flying without the ear piercing engine noise. Since 2012 it has been his primary choice of flying, often traveling around Southeast Asia discovering new places to fly – something that is not logistically possible to do with his paramotor.
Sometime in 2014, he then decided that there should be a website that documents all information about paragliding in one place and this website was created. It bears the unique URL that is easy to remember and somehow it sounds like a description of the sport's local community.
For many years he has been an active brand ambassador for Ozone Gliders, Woody Valley and Sup'Air in Malaysia, promoting the products and instrumental in helping the local sports industry grow through flying site developments, operational guidelines and paragliding regulatory matters.
When he's not at the flying sites or spending time with family, Yusmar can be found either scuba diving at the islands or just chilling out at rock climbing sites.
Way Forward
One or two persons alone can't change or push the sport to grow further, so a group of equally enthusiastic paragliding pilots gathered to work together to achieve the common goal and that is to build a strong community of active paragliding pilots, not only to fly recreationally but also to compete in the international championships and hopefully one day, one of us will be standing on the podium as the world champion. Yes it's a big and bold dream, but everything starts with a dream :-)
Other than pursuing the dream to paraglide regularly around Southeast Asia, we plan to develop local paragliding sport in Malaysia through our establishment as a social enterprise in helping to discover local talents especially from suburban areas. Giving equitable access to this sport for the youth group from suburban areas.
Through our online Tandem Flight Booking System and affiliation with third-party booking providers, we will be able to effectively connect the public with local tandem pilots to manage their recreational tandem flights. By this, we hope to create more job opportunities for the local tandem pilots nationwide and at the same time helps to develop their local flying sites to become active.
If you have what it takes to help and wish to be part of this initiative, please connect with us at yusmar@paragliders.my or use our Contact Us online form.
Social Media
We're also active on social media platforms for discussions at Facebook Group and you are invited to join the group where we openly share event happenings, trip planning or any other flying related matters. Our Facebook group is at : http://facebook.com/groups/paraglidersmalaysia