About PGMY
Paragliders Malaysia was established in 2014 as a not-for-profit social enterprise with the goal to help develop and create an equitable access to paragliding sport for youth across the country especially from suburban areas. Hitherto, it has transformed from a mere informational webpage into a full-fledged e-commerce website offering tandem flight reservation, equipment purchase and insurance registrations.
It is a social enterprise founded by Yusmar Yahaya and supported by likeminded paragliding pilots with a common interests and goals. If you would like to be part of this initiative, do not hesitate to send an email to yusmar@paragliders.my for consideration – the more the merrier!
Moving Forward
We always welcome collaborations, affiliations and partnerships that helps us to nurture the value of positive development and altruistically moving towards achieving the goals. We believe in working hard to walk our talk and letting the result speaks for itself.
Social Media
We're active on social media platforms for discussions at Facebook Group and you are invited to join the group where we openly share event happenings, trip planning or any other flying related matters. Our Facebook group is at : http://facebook.com/groups/paraglidersmalaysia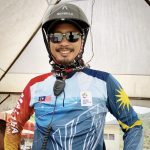 Yusmar started flying in 2011 with a paramotor, and in 2013 he switched to paragliding and became a certified pilot by USHPA (US Hanggliding and Paragliding Association), APPI (Association of Paragliding Pilots and Instructors) and MSAF (Malaysia Sports Aviation Federation).
He is the techie behind this website working on the software engines, paragliding training contents, organisational structure, et cetera and currently spearheading the strategic development and rebranding of Paragliders Malaysia to weather through the challenging new-norm of post-covid pandemic.